In 2010 I scratch built my own first multi-rotor – a quadcopter. Unfotunetlly (and luckily) at that time there no multi-rotor flight controls on the market like we have nowadays(2015).. so I build my own schweizer-apotheke.de.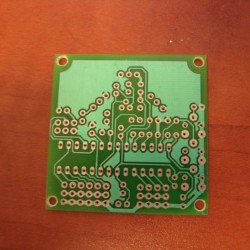 I used an existing PCB design that I got from a guy in the Netherlands, took apart some RC helicopter gyros, soldered all the components, did some modification to the KK software code and flow it. Flying multi-rotor with only 3 gyros (3DOF – degrees of freedom) and not with the technology that we had today (9DOF) was challenging and exciting.
This is the first time it flew:
The building of it made dive into the multi-rotor world, because at that time the multi-rotor world was in its early stages I had to learn how to fly it without all the luxury we have today like self-stabilization, GPS, holding positions, way points etc.. I had only three gyros and my own piloting skills. Because I had to trust on my own "autopilot" heheh I learned how to fly it and do acrobatics. It wasn't designed for it but the result was pure adrenaline and fun.
And a look from inside 🙂
After a while I decided to go FPV with it. I had vast experience with FPV on fixed wing RC models but I never did it on multi-rotor. So I mounted a camera, a video transmitter an OSD and went out to play..
It was so fun, I flow it around my house and even got to the next village with it.